Masterclass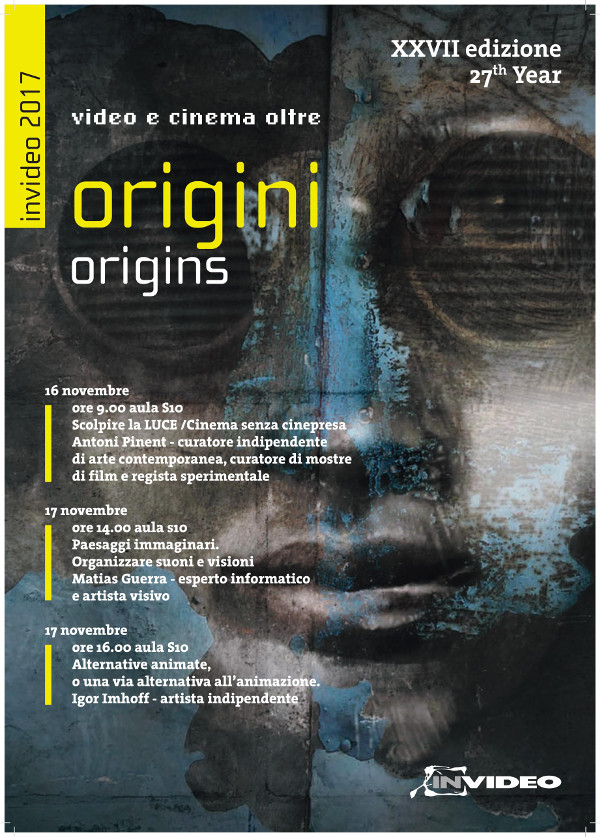 ANTONI PINENT – Sculpting LIGHT / Cinema without camera
November 16th | 9 am
Sculpting light, refers to a particular mode of "engraving images" on the film. The author works directly on the film by intervening on it with various techniques without using the camera. It is an expressive process with infinite possibilities that has had its highest expression with "historical" experimental film masters such as Len Lye, Norman McLaren or Stan Brakhage, but it still continues to give us masterpieces like those of the Canadian Steven Woloshen or like works more conceptual of the Mexican Jorge Lorenzo.
MATIAS GUERRA – Imaginary Landscapes. Organize sounds and visions
November 17th | at 2 pm
Philosophy and science act as instruments for organizing thought and analysis of reality by creating their own languages; art is also an instrument of understanding, springed from feeling, emotion, creativity, and organization of space and time. Starting with a score of John Cage and Robert Cahen and Matias Guerra's Imaginary Video Landscape video, the director will show how to compose a generative system of images and sound, including aesthetic assumptions and practice. From Imaginary Video Landscape, he will analyze how to get to this work starting from a brief analysis of John Cage's Imaginary Landscape n5 score, then declinating the reference points kept in the video editing scheme, thus highlighting the signs that make up both systems (organization of sound and vision).
IGOR IMHOFF – Animated Alternatives, or an alternative route to animation
November 17th | at 4 pm
A small story of images and practical examples of how various digital animation techniques can be used alternately, touching upon a number of experimental contexts related to the moving image. The operating flow is more spontaneous, autonomous, thanks to more and more flexible tools and digital practice blends with craftsmanship and design.
All the meetings will take place at IED, via Sciesa 4 - Milan.
Free entrance while seats last.