INVIDEO 2006
INVIDEO 2006
16th YEAR
SUSPENDED REALITIES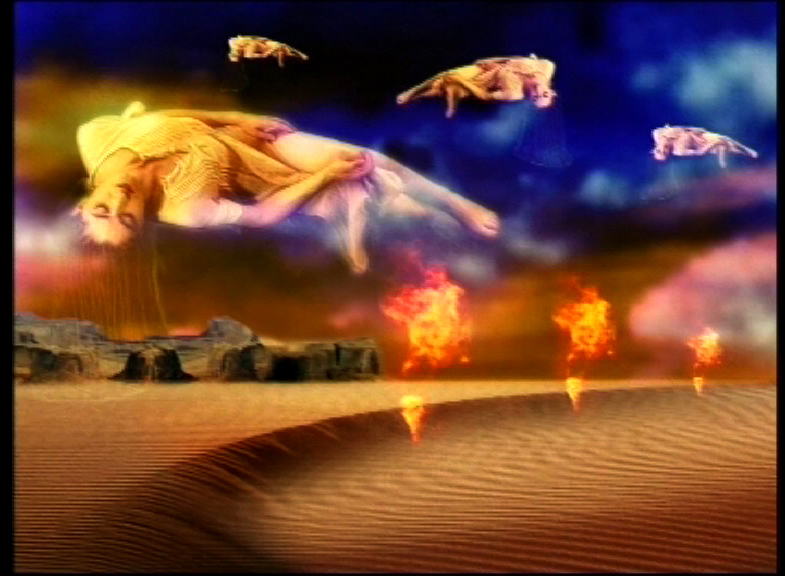 8-12 NOVEMBER
Vienna, Top Kino
7 november 2006

Milano, Spazio Oberdan 
8 - 12 november 2006

Monza, Sala Maddalena e Nine Hotel
16 - 19 november 2006
Parigi, mk2 Bibliothèque
28 november 2006
"Suspended Realities" is the chosen title for INVIDEO 2006. As always, the theme emerged from the works selected, establishing a point of view and a thread which will run right through the event. This year that thread is undoubtedly "reality". Reality has gradually wormed its way into our programming, year by year, albeit not as the object of classic, documentary representation. Hence the term "suspended", indicating that this reality floats somewhere above and beyond reporting, investigative genres. This is reality with feet firmly on the ground but head in the clouds, or the other way around (as per the "reverse images" suggested by last year's programme), reality in which attention for the world we live in encounters and is strengthened by contact with the creative articulacy of video language. Stories of fishermen, oral history from mining communities, street demonstrations, an oil rig, a flock of sheep, harsh work in the desert, the gestures and geometry of window cleaners, a naval scrap yard, deserted factories, life on the border of Jordan and Iraq, life in shanty towns, the disappearance of local cinemas, the human landscape studded with mobile phone conversations, a parking lot for camper vans and caravans. Conflict, too (the Second World War, Beirut, Bosnia), and a highly topical reflection on the metropolis – in the framework of  this year's opening programme in Vienna.
Whether the approach is entomological (close-up through the microscope, slowed down, contemplative) or kaleidoscopic, whether the language is radically entrusted to the images without words, or to words alone with images almost at a standstill, in all the works there is unfailingly deep audiovisual research, never banal, always dense with meaning. The initial datum is reality, but that reality is transformed, rarefied, intensified, re-interpreted through the alteration of movement, colour, even the grain of the image. In some of the less obviously realistic works, too (animation, choreography, pictorial effects), reality can still return to dazzle: a market, a couple who never meet, the problems of assisted fecundation and genetic engineering. The programme we are dedicating this year to Fluid Video Crew, a versatile, militant collective of young experimental videomakers, documentarists and video artists who have also tried out full-length fiction, is fully in line with the wealth of qualities that can be revealed by a twofold approach to the real: concrete and suspended. The return to realism (one of the issues of the day in film and the figurative arts, too), including its implications in terms of social engagement and responsibility, seemed to us to be an important development, worth giving space to.
Alongside this dominant note there are also works that are totally abstract, or which continue on video the experiments of the historic avant-garde of underground cinema; there are portraits (of writers, artists, filmmakers), videos inspired by landscape, works derived from choreographic or theatrical material. There are also music videos, this year represented by the programme dedicated to Jonas Odell, but also by a live performance which brings together the written word, video, computer-generated art and music. INVIDEO never forgets new genres or the more radical expression of a large part of video art, nor do the videomakers (established or fledgling) forget INVIDEO. In that context, we felt duty bound to pay tribute to one of the fathers of the electronic arts, Nam June Paik, who died in January this year. That context, too, explains the presentation of the results of the colossal work of excavation in the history of international video art carried out in Germany by ZKM, in association with various cultural bodies and institutions; it also underlies the encounter in Paris between Italian video and the influential magazine "Bref".
To accompany the themes presented in the works shown, INVIDEO 2006 features a series of meetings and forums on crucial issues in the debate surrounding the arts today. One such is the "cinema of exhibition", the migration of moving images to art galleries and the changes implied; another is the rapport between moving images and the other arts (a high-profile instance of the interest surrounding this theme is the current show on "Le mouvement des images" at the Centre Pompidou in Paris). Alongside the selection of works chosen to create the "Art Hotel" project in Monza, there will also be a seminar led by Philippe Dubois, a programme dedicated to young videomaker Egbert Mittelstädt, a meeting with Alain Fleischer. These will all provide opportunities to explore from different angles the problem of the rapport between video and the visual arts, old and new technologies – as, indeed, will another of this year's initiatives, the forum headed by Claudia Giannetti, head of the MECAD media and arts centre in Barcelona.
In keeping with the approach outlined above, photography plays a core role in this year's programme: there are video portraits (by Marina Spada) of three internationally known Italian photographers (Vincenzo Castella, Mario Cresci, Francesco Radino), who in their turn give their own personal and lucid philosophies of the image, in their essays for the catalogue. Lastly, the unusual "geographical archive" put together by the Swiss artist Erich Busslinger is also inspired by the relations between photography (or moving images slowed down to a virtual standstill), traditional iconography revisited, old-fashioned panoramas and state-of-the-art computer techniques.
In other words, INVIDEO hopes to provide a place for careful, privileged observation of the world of images and of images in the world, at the intersection between techniques (from 8mm to digital) and the arts: film, photography, music, contemporary arts, performance. A place for listening and observing which can identify certain pathways, routes toward feeling and meaning, refuges for thought, amid the "noise" of images and sounds in today's world – and today's media universe, which is at least as confused and obscure as it is lucid and implacable. A place which can identify instruments for guidance, capable of being at one and the same time real and suspended.
| | |
| --- | --- |
| | |
SELECTED AUTHORS
Alessandro Amaducci. Cover Dalì, 13', 2006, IT
Nassim  Amaouche. Quelques miettes pour les oiseaux, 28', 2005, FR/JO
Hugo Arcier. Les 5 siamoises, 5' 10'', 2006, FR
Bret Battey. Autarkeia aggregatum, 9' 30'', 2005, UK
Valerie Berteau/Philippe Witjes. Golden Kitchen, 5', 2005, BE
Brigitta Bödenauer. Can I have 2 minutes of your time?, 2', 2005, AT
Anja Breien. Uten tittel-Untitled. 14' 2005, NO
Gemma Burditt. Night Shift, 8' 44'', 2006, UK
Magali Charrier. Tra La La, 3', 2004, CA/UK
Ronnie Cramer. Pillow Girl, 8', 2005, USA
Andrés Denegri. Uyuni, 8', 2005, AR
Joel Fendelman. Band of Sisters, 8', 2004, USA
Dominika Ferenz. State of Suspension, 13' 40'', 2006, AU
Alicia Framis. Secret Strikes-Tate Modern, 2006, ES
Shuka Glotman. Lelo Sheket-Silence Lost, 19', 2005, IL
Grupo "Proyecto Cambuche". Fragmentos, 3' 50'', 2006, CO
Rubén Guzmán. Arise!, 2' 05", 2005, AR/CA
Florian Gwinner. Das modell, 7', 2006, DE
Nelson Henricks. Map of the City, 21', 2006, CA
Ana Hušman. Plac - The Market, 9' 32'', 2006, HR
Ricardo Iscar/Nacho Martín. El cerco, 12', 2005, ES
Anders Jørgensen. Hydromatopoetikon, 12' 30", 2005, NO
Allen Kaeja/Mark Adam. Asylum of Spoons, 25', 2005, CA
Debbie Kleijn. Glazenwassers, 8' 20'', 2005, NL
Andy Kimpton-Nye. Derek Jarman: Life as Art, 60', 2005, UK
Joe King. Sea Change, 5' 28'', 2005, UK
Frances Leeming. Genetic Admiration, 23', 2005, CA
Laurent Lichoux. En suspens, 6' 30'', 2005, FR
Eric Lin. Music Palace, 9', 2005, USA
Giorgio Longo. Giulia Niccolai, 7'34'', 2006, IT
Xavier Lukomski. Un pont sur le Drina, 18', 2005, BE/FR
Tim Macmillan. Animal Tragic. 2004, UK
Éva Magyarósi. Hanne, 7' 30'', 2005, HU
Mariangela Malvaso. Col pensiero nel nulla, 4' 43'', 2005, IT
Masbedo. 10  Insects To Feed, 5', 2005, IT
Vincent Meessen. N12°13.062'/W 001°32.619' extended, 8' 25'', 2005, BE/BF
Jean-François Neplaz/Elisa Zurlo. L'autre matin…en attendant Mario Rigoni Stern, Francia, 2006, 12'
Grace Ndiritu. Arrested Development, 3', 2004, UK
Luis Nieto. Carlitopolis, 3', 2005, FR
Waël Nourredine. Ça sera beau-from Beyrouth with Love, 29', 2005, FR/LB
Jonas Odell. Never Like the First Time!, 15', 2006, SE
Ethem Özgüven. Tenedos, 10', 2006, TR
Steve Patry/Karène Lefebvre. Imbroglio, 7', 2005/6, CA
Miranda Pennell. You Made Me Love You, 3', 2005, UK
Jean-Gabriel Periot. Eût-elle était criminelle...even if she had been a criminal, 10', 2005, FR
Jean-Paul Philippe/Andrea Piccardo. La pelle della luna, 17' 30", 2005, IT
Vaughan Pilikian. Hammer and Flame, 10', 2005, UK/IN
William Raban. Civil Disobedience, 3', 2004, UK
Arash T.Riahi. Mississippi, 6', 2005, AT
Luca Scarzella. Varnam on Nava rasa – devotion to Minakshi, 20', 2005, IT
Semiconductor. All The Time in The World, 5', 2005, UK
Carl Stevenson. From Where I Am Standing  , 4' 25", 2005, UK
Stephane Stradella. IbaQsha, 8', 2005, FR
Clara van Gool. Reimerswall, 4', 2005, NL
Giacomo Verde. Sintomi - è più potente di me – tra mente e scena,  32' 40", 2006, IT
Pierre Villemin. Mémoire Carbone, 21', 2005, FR
Christina von Greve/C. Schutz. Flicker, 10', 2006, DE
Eva Weber. The Intimacy of Strangers, 20', 2005, UK
Karen Yeung. Glorious Garden, 4' 50'', 2005, NZ
INVIDEO is an AIACE's project supported by: Ministero per i Beni e le Attività Culturali, Direzione Generale per il Cinema; Regione Lombardia, Direzione Generale Culture, Identità e Autonomie della Lombardia; Provincia di Milano, Settore Cultura;Comune di Milano, Direzione Centrale Cultura, Settore Spettacolo.
INVIDEO cooperates with: AICEM | Ambasciata di Svezia | Bref - magazine du court métrage | Centre culturel français de Milan | Comune di Monza - Assessorato alla Cultura | Istituto Svizzero di Roma-Centro Culturale Svizzero di Milano | Forum Austriaco di Cultura | Fondazione Cineteca Italiana | Fractalzoom | Galeazzi Moscatelli | Goethe- Institut Mailand | Instituto Cervantes - Milán | Istituto Italiano di Cultura - Vienna | Iulm | Medialogo |  Nine Hotel | Oikosassociati | Ondavideo | Sixpackfilm e Centro Culturale Amici di INVIDEO. E inoltre da: L'Austria per l'Italia Hotels | Hotel Hilton Milan | SkyEurope Airlines | Vertical Vision | Verzolla| Mercedes.