INVIDEO 2001
INVIDEO 2001
11th YEAR
ELSEWHERE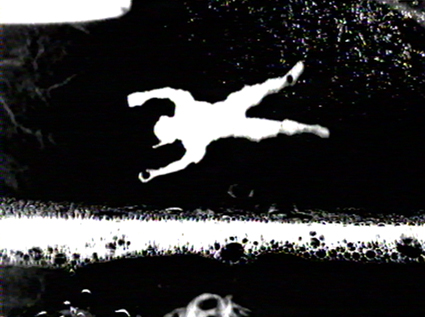 7-11 NOVEMBER

Milano, Spazio Oberdan 
7 - 11 November 2001
"Peace will not come out of a clash of arms, but with justice lived".
Bill Viola sent us these words of Gandhi, in the days following the terrible attacks on New York and Washington. Sadly, as we write, the noise of arms is closer than ever. Many videomakers and artists have written to us during this period with meditations, literary pieces, poems and petitions against the danger of another world war. Even before, however, from the moment the selection process for Invideo 2001 began, there were clearly detectable signs in the works submitted of a new – or renewed – interest in the world, even without the dramatic urgency imposed by recent events.
We tried to take in those signs and give them a place in this year's show, aptly titled Elsewhere: partly in an aesthetic sense, certainly – other languages and ways of expression, as always in our exhibition; but also geographically and above all mentally elsewhere. An interest in other places goes hand in hand, we feel, with exploring other ways of telling a story. Which is why we have young Polish kids learning to use their mini cameras to bear witness to their difficult lives; kids from Senegal lucidly recounting their own existence on the streets; a video on Genoa during the G8 summit, weaving registers from documentary, poetic and literary quotation, laughter and tears; and videos that evoke the architecture of war, or animation alluding metaphorically to scenarios of battle and death.
The enormous presence and power of portable cameras, which emerged so clearly from the events in Genoa and later in the USA, made it imperative to include a reflection on the ubiquitous intrusion of electronic eyes, of which the various versions of Big Brother are no more than an empty, pathetic parody. The decision to include classics by Michael Klier, with a debate on the voyeurism of today, was based on the need to re-view and rethink artistic hypotheses on surveillance and control. Very probably this "counter-cultural" ferment – as it would once have been termed – was also the basis for the provocative proposal from Carlo Isola to create a paradoxical TV schedule – paradoxical in its authors (artists), works (from animation to gags, from performance to rare archive material), its medium of use (public video screenings). Here again there is a reference to a modern classic, the "poetronics" of Gianni Toti, who made a (vain) attempt at "poetical" renewal in the 1980s before being removed from the schedules of state broadcaster RAI.
The exhibition continues, of course, to explore new work from what has become familiar terrain: electronic phantasmagoria, with some extraordinary digital animation; portraiture, with a series of "creation documentaries" on artists; autobiography and video diaries; video art, with its metamorphoses of forms and colours, its visual games and graphic permutations; video installations (also featuring a seminar on the subject); interactive performance. A section dedicated to Chris Cunningham will address the huge area of relations between image and music, only partly touched on in previous years, with a focus on the gifted, stylish work of one of the major, most refined talents in "music video".
Last but not least, the UK selection seems more timely and exemplary than ever, with its ability to put before us the problems and issues affecting audiovisual creation today: commissions and distribution, successful mixing of supports, fertile encounters between "art gallery" video, conceptual or performing, and classic video art. Plus references to experimental and independent cinema, on the one hand, and to contemporary art on the other. Nor is an irrepressible sense of humour lacking, mixed with intimist and lyrical traits.
As always, this catalogue is intended to be a record of the works we have chosen to present (and also to purchase, for what has grown into an impressive and valuable archive, kept at the Province of Milan's Medialogo centre); at the same time it is also a study tool that goes beyond the material on display, making a contribution to current thinking on the audiovisual and how new technologies can be used for art. In other words, a catalogue that goes beyond, elsewhere, to "see if there's anything to see", as Godard put it. As do, courageously, our videos, our videomakers and our electronic eyes; and as we ourselves count on doing in the future, against this backdrop of war.
SELECTED AUTHORS
Silvano Agosti, Nobel? Nobel sarà lei. Italia, 2001, 40'+45'+55'
Marco Agostinelli, NATO. Italia, 2001, 36'          
                        Cuore di cane. Italia, 2001, 14'
Giuseppe Baresi e Giorgio Garini, Kumbh Mela. Italia, 2001, 30'
   
Battery Operated, Chases Through Non Place. Italia, 2000, 46'
Breda Beban, Let's call it love. UK, 2000, 7'
Paul Bush, Furniture Poetry. UK, 1999, 6'
Gerard Cairaschi, Oversight. Francia, 2001, 12' 16''
Mario Canali, XxX. Italia, 2001, 5' 

Susanna Carlisle, Butoh. USA, 2001, 5'         
                       Cameos. USA, 2001, 5' 30" 
Claudio Cavallari, Jan Fabre, as long as the world needs a warrior's soul. Italia, 2001, 3'
Mara Chiaretti, Davai Bistré - Avanti! Presto! Italia, 2001. 28'
Chris Cunningham, Second Bad Vibe, Autechre, UK, 1995, 4' 42" (Warp Records)
                         36 Degrees, Placebo, UK, 1996, 3' 30" (Virgin Records)
                         Another Day, Lodestar, UK, 1996, 5' (Ultimate/AEM/PV)
                         Jesus Coming In For the Kill, Life's Addiction, UK, 1997, 4' 45"(London                          Records)
                         Personally,12 Rounds, UK, 1997, 4' 30" (Polydor)
                         Tranquilizer, Geneva, UK, 1997, 4' 10" (Nude)
                               Come to Daddy, Aphex Twin, UK, 1997, 6' 11" (Warp Records)
                         Only You, Portishead, UK, 1998, 4' 38" (Go Disks)
                         Frozen, Madonna, USA, 1998, 5' 23" (Warner Records LA)
                              Afrika Shox, Letfield & Afrika Bambaata, UK, 1999, 4' 50" (Sony Music)
                         Come On My Selector, Squarepusher, UK, 1998, 7'35" (Warp Records)
                         Windowlicker, Aphex Twin, UK,1999, 10' 39" (Warp Records)
                         All is Full of Love, Björk, UK, 1999, 4' 09" (One Little Indian)
Benoît Dehaene e Philippe Jubard, Nuit. Francia, 2000, 7'
Kurt D'Haeseleer, File. Austria, 2000, 28' 
  
Alain Escalle, Le conte du monde flottant. Francia, 2000, 24'
Julie-Christine Fortier, Mechanical Rodeo. Canada, 2000, 1' 40"
Giuseppe Gaudino, Scalamara. Italia, 2001, 33'
Yervant Gianikian e Angela Ricci Lucchi, Visioni del deserto. Italia, 2001, 16'
Marie-France Giraudon e Emmanuel Avenel, Trans(e) Bleu. Canada, 2000, 23'
Dryden Goodwyn, Closer. UK, 2001, 6'
Oliver Harrison. Love is all, UK, 1999, 4' 
Tony Hill, Camera obscura. UK, 2000, 16'
Matt Hulse, Hotel Central. UK, 2000, 11'
Michael Klier, Der riese. Germania, 1983, 82'
                  Hotel Tapes. Germania, 1986
Gustavo Kortsarz, Vanarsky/Toporgraphie. Francia, 1999, 10' 24"
Remi Lacoste, Tekhnê. Canada, 1998, 46'
François Lejault, Le rêve de cachalot. Francia, 2001, 8'
Tim Macmillan, Ferment. UK, 1999, 4' 
Michael Maziere, Blackout. UK, 2000, 10'         
                       Delirium. UK, 2001, 10'
Andrea Molaioli, Bandiera rossa e borsa nera. Italia, 2001, 27'
Roberto Nanni, Antonio Ruju, vita di un anarchico sardo. Italia, 2001, 28'
Susanna Nicchiarelli, Cra Cri Do Bo. Italia, 2001, 24'
Grzegorz Pacek, Jestm Zly (Such is my karma). Polonia, 2001, 27'
Papisthione, De la vie des enfants au XXIème siecle. Senegal, 2000, 57' 
Monica Petracci, Risonanze. Italia, 2001, 1' 10"
Claudio Prati, E-motions. Italia, 2000, 13' 13" 
Daniel Reeves, One with everythink. UK, 1998, 20' 
Kike Riesco, Erivan Phumpiu e Felipe Morey. S/T (Sin título). Peru, 1999, 4' 
Rob Rombout, Les Açores de Madredeus. Belgio, 1995, 40'
Isabella Sandri, I quaderni di Luisa. Italia, 2001, 28'
Valia Santella, In nome del popolo italiano. Italia, 2001, 29' 
Harald Schleicher, True words/Evil images/Rough rhythms. Germania, 2001, 8'
Studio Azzurro, Trittico Marghera. Italia, 2001
Tinhoko, _relifted. Austria, 2000, 7' 
Giacomo Verde, Solo limoni. Italia, 2001, 44'35'  
Fan Yuk Man, Born in Honk Kong with my own Technics 2000. Cina, 2000, 5'
INVIDEO is an AIACE's project supported by: Regione Lombardia - Direzione Generale Culture, Identità e Autonomie della Lombardia, dalla Provincia di Milano - Settore Cultura, dal Comune di Milano - Cultura e Musei - Settore Spettacolo - Turismo, dalla Commissione Europea - Programma Media.
INVIDEO cooperates with: British Council, Centro Culturale Svizzero, Fondazione Cineteca Italiana, Goethe Institut, Ondavideo, Pro Helvetia, UICC.