MOVING STORIES
Moving Stories
Moving Stories is a two-year project (2010/11) in which six European countries are taking part (Austria, Belgium, France, Germany, Italy, Poland); each country is represented by a partner identified as an element of excellence – for Italy INVIDEO – who undertakes to produce an original work; all six works will be presented at a national première, on a circuit with different times and spaces, in each of the countries involved.  The common thread and point of departure for the different productions is represented by new narrative models in the digital arts.
Those involved are:
• OK Center for Contemporary Art, Linz (Austria)
• Contour, organizers of the art Biennale of Mechelen (Belgium)
• Vidéoformes Art vidéo & cultures numériques, Clermont-Ferrand (France)
• EMAF, Osnabrück (Germany)
• INVIDEO, Milan (Italy)
• WRO Art Center, Wroclav (Poland)
Each has proposed and is curating a production by an artist or group of artists of world renown, who will create a work conceived especially for Moving Stories and destined for exhibition in all the countries involved.
The six artists will be exploring innovative narrative strategies regarding moving images, each according to his own personal style. The result will be six new artworks, either monochannel or installations, permeated by extreme maturity of form and content, to be presented in each of the six countries involved. The digital arts seem to have become the medium of choice for combining many different arts (photography, painting, three-dimensional art, the cinema, fiction, documentary, music, dance or theatre performances, etc…) absorbing their basic characteristics and in turn contributing their own. Thanks to all these connections, digital art is entering the world of art history; despite the fact that it has always been regarded as an art that breaks with tradition, today it appears as the beginning of a new age.

•BELGIUM (Mechelen): Contour 2011, 5th Biennial of Moving Image, 27/08/2011 30/10/2011 
Contour Mechelen is an organisation dedicated to art being made in the moving image. Its mission is to promote the creation and exhibition of art in the moving image. Contour is based in Mechelen, Belgium. Every two years, Contour Mechelen organises the Biennial of Moving Image. The biennial offers a platform to curators and artists working with different forms of moving image, from film and video to installation. The biennial also stimulates a dialogue between contemporary art and architecture in the city of Mechelen.
For further information, see: http://www.contourmechelen.be/
Untitled by Nicolas Provost
Nicolas Provost is a filmmaker and visual artist who lives and works in Brussels, Belgium. His work is broadcasted, screened and exhibited worldwide on both visual art platforms and film festivals and has earned a long list of awards and screenings at prestigious festivals. His work is a reflection on the grammar of cinema and the relation between visual art and the cinematic experience.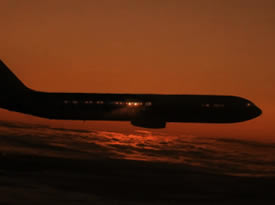 From Brussels with Love starts with an off-screen dialogue between a young couple, ready to embark on a romantic adventure. What happens next?
Provost will tell their story by using nothing but stock footage exterior shots of a Boeing plane, flying towards a sunset.
Click here to see Nicolas Provost's interview
• AUSTRIA: OK, Center for Contemporary Art Linz, 12/04/2011 – 25/04/2011
Founded in the 'eighties with public financing from Austria, it is an experimental workshop for the exploration of art. It acts as an exhibition space and production and promotional company for artists working in contemporary art.
For further information, see: www.ok-centrum.at
Cluster by Rainer Gamsjäger
Gamsjäger, born in Austria in 1974, works mainly with videoinstallations, taken not as a sequence of images but as three-dimensional spaces.
The landscapes that are the point of departure for his works are elaborated using software created by the artist himself. Starting from the idea of the digital space formed by the video, the linear sequence can be totally restructured by computer graphics, creating irritating but at the same time comforting distortions.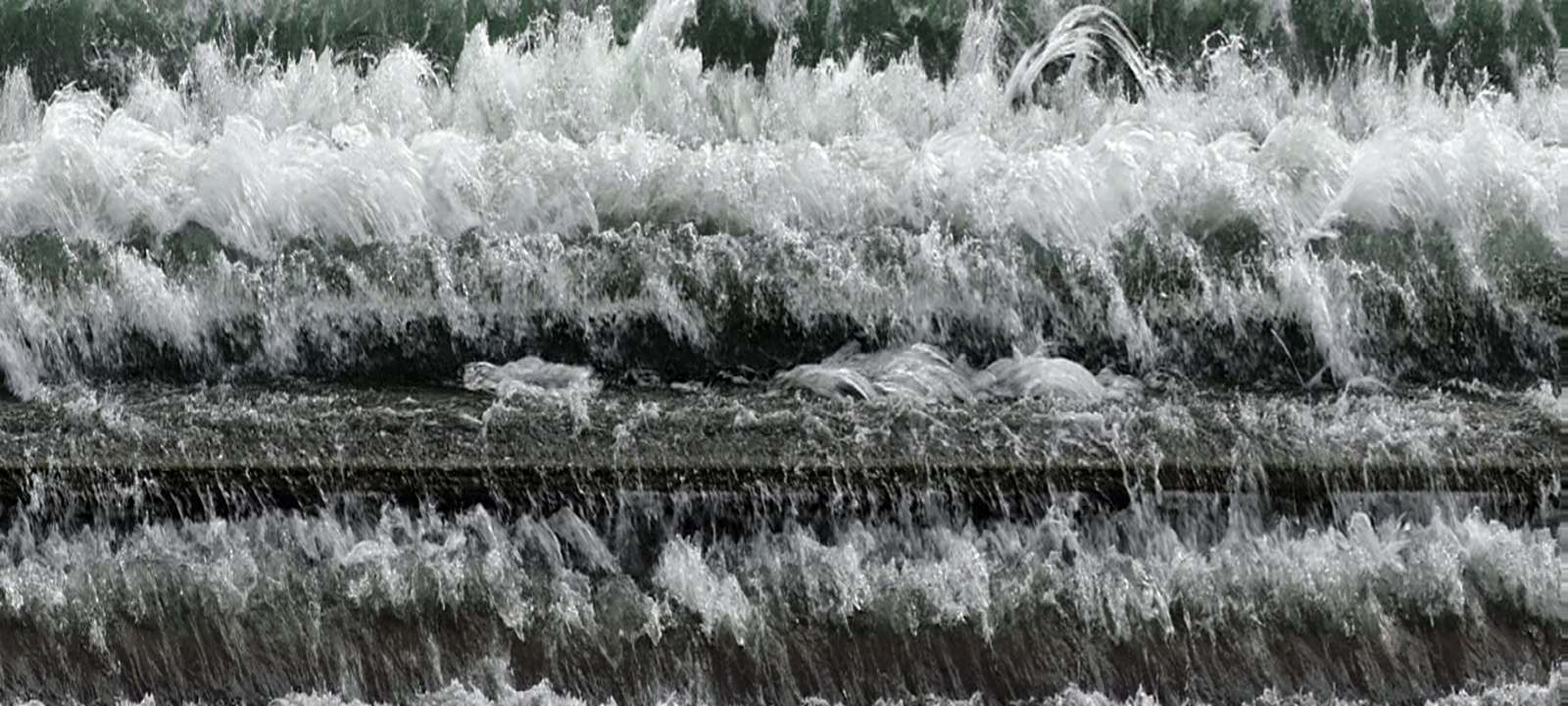 Rainer Gamsjäger's videoinstallation represents a still life in which spatial depth has been tampered with. The spectator is obliged to modify his own view of his natural surroundings; space seems to be out of order, as the artist skilfully disturbs the viewer's visual and perceptive habits; it becomes impossible to tell what is in the foreground and what lies on the horizon and we have the sensation that the passage of time has been altered.
The resulting alienation is made up for by the majestic nature of the work.
Click here to see Rainer Gamsjäger's interview
• FRANCE: Vidéoformes, Art vidéo & cultures numériques, Clermont Ferrand, 16/03/2011 – 03/04/2011
Since 1986, VIDEOFORMES annually has been organizing an international video and new media art festival. This event highlights the quality of the works and artists presented in the festival through exhibitions, lectures, screenings, debates and meetings. Famous and young artists get to meet around video installations, cinema and video films, performances, Web Art, live video and music performances (V-Jaying, D-Jaying), etc.
Apart from the festival, VIDEOFORMES has been running an alternative gallery (Galerie de l'art du temps, 1993>), and a quarterly magazine about contemporary art and new technologies (Turbulences Vidéo,1993>).
VIDEOFORMES has been carrying a policy of artists in residency and is now involved in a European project funded by the European Community.
VIDEOFORMES is now engaged in the development of Digital Video Archives, one of the most important  video and electronic art collection that has been put together in over twenty years. This collection is now available in an open database to the public. 
For further information, see: www.videoformes-fest.com
Under the Centipede Sun by Mihai Grecu
Mihai Grecu was born in Romania in 1981. After studying art and design in Romania and France, he has been pursuing his artistic research at le Fresnoy Studio National des Arts Contemporains. Recurring topics such as environment, water, city life and war articulate the whole of his exploration of mysterious and subconscious beginnings. These visual and poetic trips, mix several techniques and styles and may be seen as propositions for a new dream oriented technology. His work has been shown in numerous film festivals (Locarno, Rotterdam, Festival of New Cinema in Montreal, Videoformes, INVIDEO) and exhibitions ("Dans la nuit, des images" at the Grand Palais, "Labyrinth of my mind" at Le Cube, "Studio" at "Les Filles du Calvaire" Gallery, etc).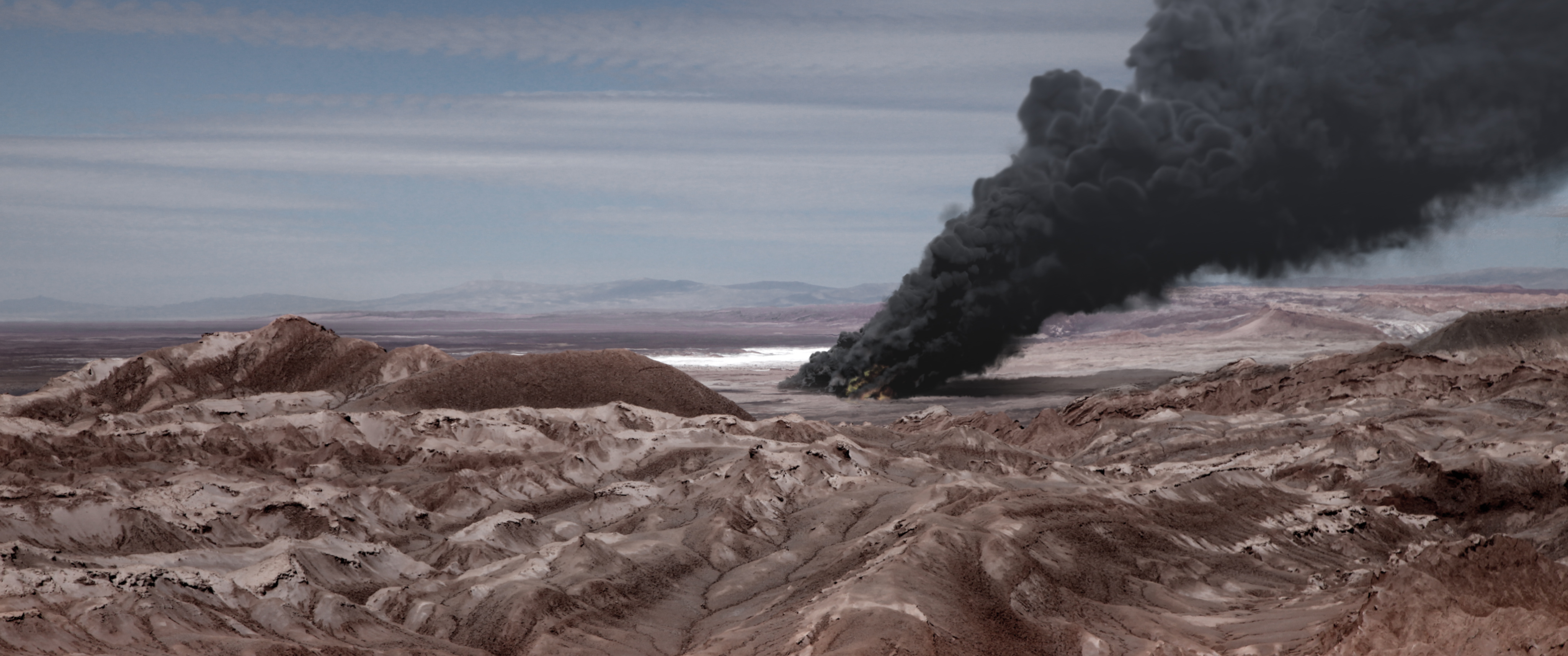 This project is the portrait of a no man's land. Burnt and sterile, it contains the traces of an invisible war.
While still fresh in these places memory, this unknown war is like a demon from the past who left its marks all over the place, creating post-destruction sculptures. There are no human combatants, only machinery: some of it lying dead, like a scar of the landscape; and some caught in a mysterious choreography.
The theater of post-destruction takes place in an almost unearthly landscape, beautiful and barren.
Mountains, desert, lakes, lie as a glimpse of infinity. But while in the outrage of destructive fire, they are left with scars, mutilated and broken : the geography changes, it mixes with an artificial post-traumatic topography.
Click here to see Mihai Grecu's interview
• GERMANY: EMAF, Osnabrück, 27/04/2011 – 29/05/2011
EMAF is one of the most influential international forums of Media Art. The yearly appointment in Osnabrück is conceived as a meeting place for artists, curators, gallery owners and a public consisting of specialists. The festival, which offers visitors an up-to-date panorama of the situation in the media arts has a strong aesthetic and conceptual impact on the sector.
For further information, see: www.emaf.de

The Character by Candice Breitz
Candice Breitz, born in Jonannesburg in 1972, for years she has lived and worked in Berlin, where she teaches Fine Arts at the Braunschweig University of Art. A protagonist of contemporary art in the last few years, she has mapped out her own personal path amidst the byways of the Hollywood production system, using American films and images from contemporary pop music as a basis for setting up a relationship with the recipients of the work of art, with a view to involving and activating the viewer's role. Her works have been presented in numerous, prestigious museums worldwide.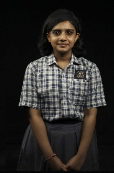 Fifteen children (aged between 11 and 16) from the Gundecha Education Academy (a school located in the suburbs of Mumbai) were each asked to watch a different Bollywood movie that prominently featured a child character. During the shoot that followed, each of the fifteen participating children was interviewed individually: the questions asked prompted each child to verbally portray the fictional child in the movie they had watched. As they describe fifteen fictional children from the big screen, the fifteen children portrayed in Moving Stories offer a range of insights into the role played by 'the child' (as character and as spectator) in mainstream Indian cinema.
• ITALY: INVIDEO, Biella, 13/07/2011 - 17/07/2011
Since 1990, each year Aiace's INVIDEO has organized a large international exhibition devoted to experimental works and research. As well as a programme rich in artworks and premières, the exhibition offers the public an opportunity to meet the most prestigious authors and to become acquainted with the most important, international-level creative work and productions in Europe. From the very start, INVIDEO has been based on the strong concept of equipping Milan with a permanent archive of electronic arts, an archive which now consists of hundreds and hundreds of works, is constantly being added to and up-dated and is now the most important in this sector in Italy. The INVIDEO archives can be consulted at the Fabbrica del Vapore, both in the Association's own spaces and at the  (Documentation Centre for Visual Arts), the documentation centre shared by INVIDEO, Consorzio C/O careof – VIAFARINI and Show Biz.
For further information, see: www.mostrainvideo.com
Guardare se stessi guardarsi by Masbedo
MASBEDO is a name combining segments of the duo's surnames: Nicolò Massazza (Milano 1973) - Iacopo Bedogni (Sarzana 1970), who live and work in Milan. Right from the start they have followed a multi-disciplinary and transversal artistic direction in which they collaborate with different artists including writers, film actors, experimental theatre actors and performers in dance theatre. They are present in the most prestigious European collections and their video works are to be found in Italian and international museums. Since 2000 they have started to exhibit intensively in international galleries, museums and film festivals.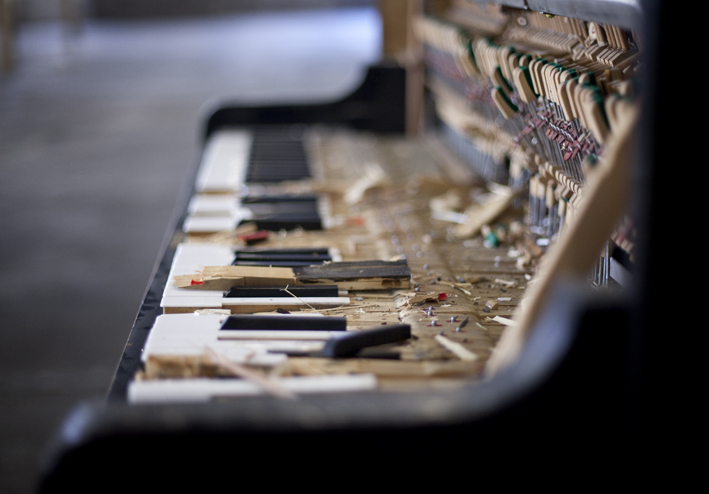 More than any other work they have produced in the last few years, the Masbedo installation project draws life from the close relationship between sound and image. An upright piano is hit by gunshots, emitting a melody of heart-rending sounds; a melody generated by the violence of the impact, the shattering of the keys, the strings being torn apart, the wood ruined. The work is inspired by an existential theory that combines aggressiveness with melancholy in artistic symbiosis.
In this project, which will consist of a videoinstallation, the intention is to create a relationship between sound and image. What strikes us on the one hand is the bitter and aggressive melody of the shots at the piano and on the other the intensity, the hope of humankind which endeavours to compose something that is alive and human "out of what remains". The video is shot in high definition and the entire soundtrack recorded live.
Click here to see Masbedo's interview
• POLAND: WRO Art Center , Wroclaw, 10/05/2011 – 18/09/2011
Arising out of the experience and work of the WRO Center for Media Art Foundation, the only independent organization in Poland specializing in contemporary art, media and technology, since 1989 it has been organizing WRO - International Media Art Biennale. The WRO Art Center regularly hosts exhibitions and events connected to the world of contemporary art, which present developments in tools and means of communication.
For further information, see: www.wrocenter.pl
Oceanus by Paweł Janicki
Paweł Janicki (1974) is an independent media artist who works in the field of the multi-media arts. He is the creator of interactive audio-visual systems, installations and performances, as well as software and interfaces for the creation of new videoart products. His work as the composer of interactive soundtracks for radio, television and the interactive media has been presented at several European initiatives. His projects have been shown at many festivals devoted to contemporary art.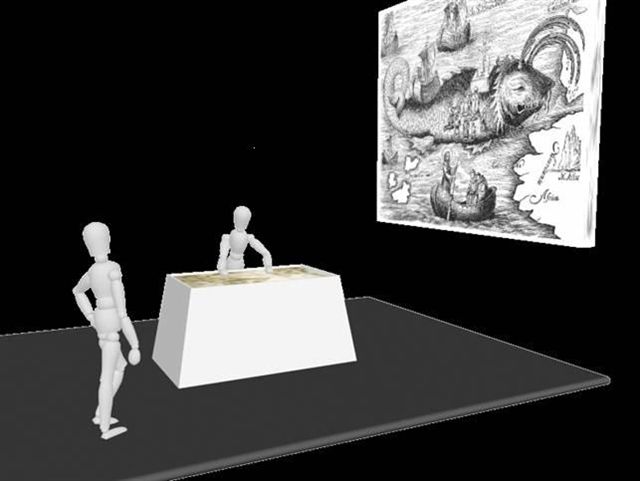 Oceanus is an interactive installation which allows the viewer to create a personalized story, based on different scenarios, thanks to software created especially by the artist. The idea for the installation was inspired by the Navigatio Sancti Brandani, written in the Xth century, which tells the story of San Brandano's sea voyages and offers various metaphorical inspirations arising from interpretation of the theme of "navigation". The blending of typical forms of straightforward narration and atypical ones of interactive narration are grafted onto modifiable structures, that can be altered by choices generating new narrative processes. The large size of the screens makes it possible for several users to view and interact at the same time.
Click here to see Paweł Janicki's interview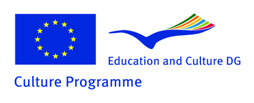 «This work programme has been funded with support from the European Commission. This communication reflects the views only of the author, and the Commission cannot be held responsible for any use which may be made of the information contained therein.»